Das war unsere erste FREE LIFE EMERSION 2018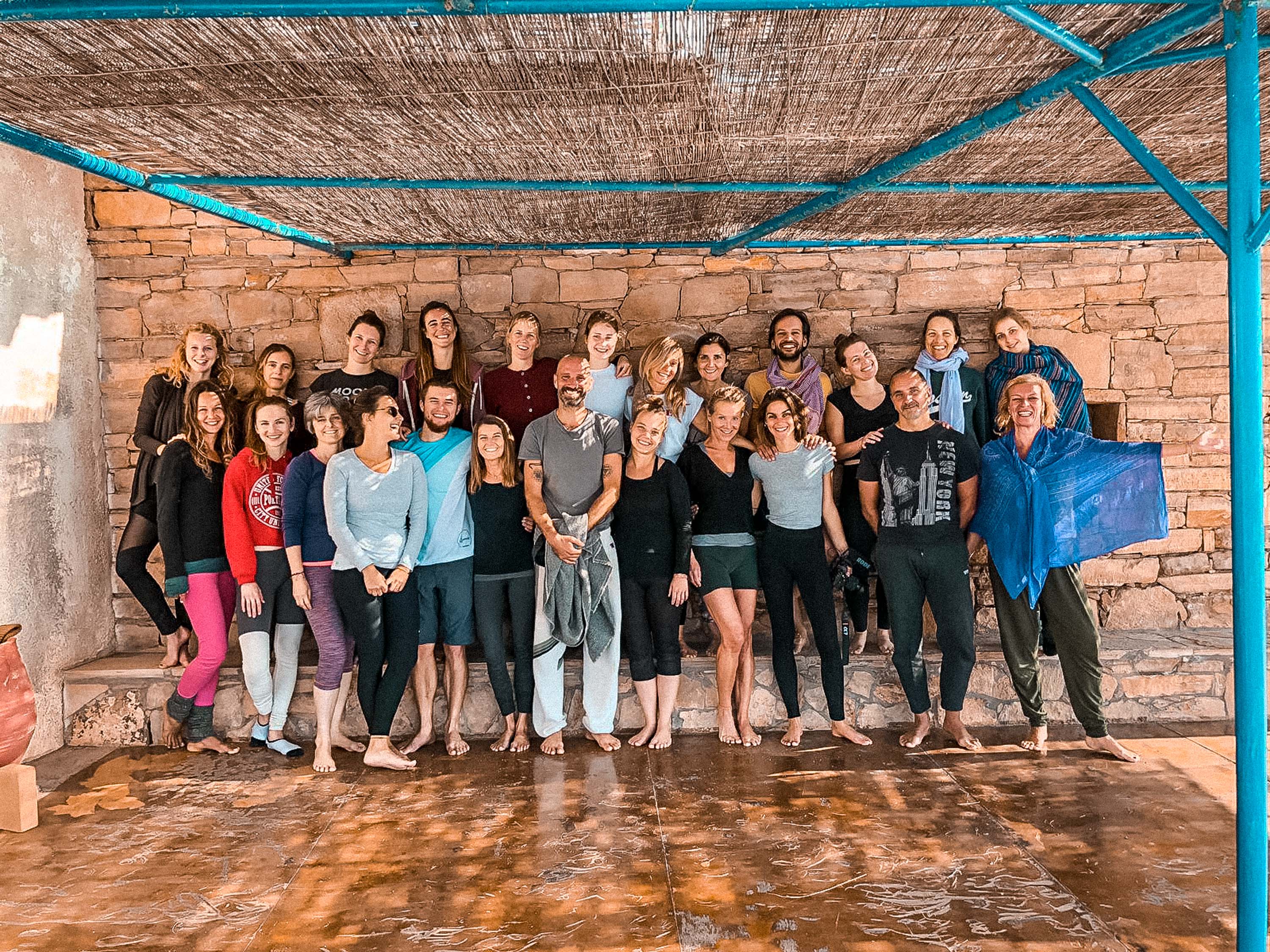 Traveldate:
ONE FULL MONTH
NOV 3rd – DEC 1st 2020
The Free Life Emersion* 2020
*Emerse: characteristic of an aquatic plant reaching above the surface of the water
A unique, DONATION BASED month of learning, sharing and learning to share.
Join many inspiring scholars, magicians, dancers, musicians, and mainly loving, kind beings.
YOGA – BREATH – MEDITATION – MUSIC – ARTS – BODYWORK/HEALING – PERMACULTURE GARDENING – NONVIOLENCE – FOOD – COOKING – MAGIC – DESIGNING COLLECTIVE ARCHITECTURES OF EQUALITY AND SUSTAINABILITY
As the dominant culture of marketing, consumerism and capital has drastically changed the levels of how we perceive reality and what has social priority, how and why we communicate, what we feel is essential and important for our individual and collective well-being and for the equilibrium of life itself on earth, we come together in the spirit of the ancient human traditions of learning, sharing and passing on essential knowledge and wisdom, playfulness and integrity.
Our aim is to gather a group of inspiring beings, committed to life, to mutually share and learn, so that we may experience the truth of collective sensitivity, creativity and sensuality, in order to plant seeds of integrity, awareness and compassion to grow into an alternative way of dealing with the everyday challenges and blessings of life.
Our approach will be essentially human and will both involve and evolve with the spirit.  Be it through the modalities of yoga, music, dance, arts, shamanism, magic or touch – we humans have an ancient connection with spirit, and we can find that spirit through rediscovering and learning ancient ways that were practiced before we had grown so far away from our root.  we need to connect with that root in order to understand our spiritual growth and the inspiring, positive and healing direction that it could take.
In this gathering we will emerge the treasures of that ancient wisdom with a dynamic approach to move into the world with an attitude of compassion and respect, strong but subtle. Instead of investing in the competition of capitalistic lifestyles we envision to contribute to societies in which we can prosper and blossom through both social equanimity and responsibility and the understanding that the offering of individual diversity contributes to an overall balance when we don't feel we need to compete for a hierarchy of powers.
We will learn to practice in various ways to connect with the universal divine alignment. When you know your practice (yoga, meditation, music, movement, breath) and you experience the depth of it (nothing you can read in a book) you know what you will have to share, and how. It is not the idea or the ideology, not the name or the label, but the truth of your experience, which is the same for all beings, expressed in the infinite ways of life.
We are very happy to be provided with the possibility to offer this month in Crete – home to ancient Greek goddess Demeter (Dimitra) which is mother earth, and mythological birthplace of Zeus. As those archetypes of female/male energies are connected to this island, we feel blessed to come together in that spirit and to pay attention to what the universe is telling us throughout all times: We are one, and we need to remember it and participate harmoniously in all of the possible ways that we have available to us which facilitate the realization of that oneness.
FACULTY: coming soon
Petros Haffenrichter: Yoga, Music, Philosophy, Meditation, Breath
Anastasis Zorba: Yoga, Dance, Ostheopathy, Bodywork, Philosophy
Pavlos & Cretan Local Crew: Sustainable Gardening, Cooking, Pottery, Instrument Building, Painting, Knowledge of Herbs, Natural Stone Building
Unterkunft
"Triopetra" – das "Dreigestein" – jene Felsformation die dem magischen Ort an der Südküste Kretas ihren Namen gibt, ist mittlerweile ein Symbol für viele Yogaübende geworden, die immer wieder hierhin zurückfinden. Kein Wunder, denn in Verbindung mit dem Erleben der wilden, mystischen Landschaft, umgeben vom tiefblauen lybischen Meer und seinen naturbelassenen, einsamen Stränden, führt die tägliche Yogapraxis zur Entdeckung des inneren SELBST.
Seit jeher scheint diese Gegend mit ihrer natürlichen Kraft Menschen anzuziehen, die – abseits gesellschaftlicher Ströme und Tendenzen – ihren Weg zum Einklang mit ihr suchen.
So haben hier schon immer Asketen, Mönche, Philosophen und Yogis ihr Bewusstsein von der erdigen, unverwüstlichen, mütterlichen Kraft dieses Ortes durchdringen lassen.
In dieser Umgebung bietet ein Retreat alles, was man sich zum Auftanken des Körpers und der Seele wünschen kann:
Freude am Yoga in der Gruppe, Zeit für sich und zum Nachdenken, für das Empfinden der eigenen Sinnlichkeit und Spiritualität, oder einfach nur um Wohlbefinden und Entspannung zu genießen.
Sind die Gedanken erst einmal losgelöst vom alltäglichen Leben und die Sinne geschärft für die genüssliche Wahrnehmung der Naturschönheit Kretas, führt das Yoga Üben zu einer besonders intensiven und inspirierenden Wahrnehmung des eigenen Ichs.
Individuelle Korrekturen und einfließende Themen aus der Yoga Philosophie werden Deine persönliche Praxis inspirieren und verfeinern. Komme so in Kontakt mit der in Dir wohnenden "Essenz des Lebendigen".
Neben der Yoga-Praxis bleibt Dir Zeit für gemütliche Spaziergänge am Strand und zum Relaxen. Anfänger und Fortgeschrittene sind herzlich willkommen.
Das Gästehaus liegt etwas erhöht über dem Strand und bietet eine schöne Sicht auf das Meer und die Küste.
Die Gegend bietet sich zum Wandern und für lange Strandspaziergänge an, aber natürlich lassen sich auch wunderbar faule Nachmittage am Strand verbringen.
Eingeschmiegt in die Küste liegt die Kretashala direkt am Meer. Die liebevoll geführte familiäre Pension verfügt über einfache, gepflegte Zimmer mit Balkon und Meerblick.
Pavlos und seine Familie verwöhnt uns mit ausgezeichneter vegetarischer Küche, überwiegend aus eigenen lokalem Anbau.
Der 80 m2 große, lichtdurchflutete Yogaraum und die Yogaterasse bieten direkten Blick aufs Meer.