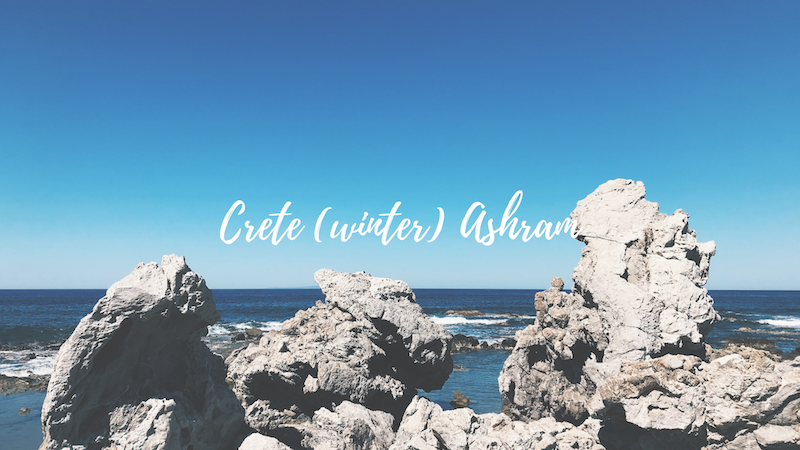 Yoga Winter Experience
————————— English translation below ————————————-
In diesem Jahr wird es eine Neufassung und Erweiterung der Free Life Emersion geben: Von November bis Februar findet zum ersten Mal der 'Crete Ashram' statt. Um uns schonmal auf die Zeit im Winter auf Kreta einzustimmen und ein paar Fragen zu klären, haben wir uns mit Patrick unterhalten, der 2018 bei der Life Emersion im November dabei war.
Das wichtigste zuerst: Ist es im November noch sommerlich auf Kreta?
Auch auf Kreta ist nur im Sommer Sommer :). Mir ist das ohnehin zu heiß… Aber das Wetter war nicht schlecht! In der ersten Woche war es sehr sommerlich, wir waren jeden Tag baden. Das Wasser war sogar noch warm genug, um morgens zum Sonnenaufgang eine Runde zu schwimmen. In den folgenden drei Wochen war es wechselhaft, mal Sonne, mal Regen. Wind ist die einzige Konstante. Auch wenn es gegen Dezember dann schon etwas kühl und feucht wird, hat der Regen manchmal auch etwas phänomenales: Am letzten Tag gab es einen Regenbogen, der viele Stunden ohne Unterbrechung über den Hügeln stand!
Wie hat dir die Zeit gefallen und was war das Besondere?
Einen ganzen Monat in einer Gruppe Gleichgesinnter zu verbringen und der Yoga-Praxis nachzugehen war für mich prägend. Eine solche Gelegenheit bietet sich mir nicht oft. Klar war von vornherein, welche Lehrer*innen zu welchen Zeiten kommen würden. In diesen Zeiten übernahmen sie und vermittelten ihre Perspektive und den Ansatz ihrer Praxis. Der unvorhersehbare Faktor war, was aus dem Kreis der Teilnehmenden kommen würde. Die Idee war, dass alle die Möglichkeit haben, der Gruppe etwas aus der eigenen "Expertise" zu vermitteln. Aus beiden Quellen waren nachhaltig beeindruckende Inhalte für mich dabei.
Und überhaupt war das Leben in der Gruppe einfach schön. Gemeinsam Dinge erarbeiten, die Natur erkunden, in der Sonne sitzen und neue Freundschaften schließen.
Ist ein Monat nicht viel zu lange?
Nein. Es braucht ja Zeit, um gewohnte Routinen abzulegen und sich in die neuen Umstände einzuleben. Eine neue Yoga-Praxis, die du vielleicht versuchen möchtest, könnte sich erst nach regelmäßigem Wiederholen als nützlich oder eben nicht erweisen. Auch andere Vorhaben benötigen Zeit, beispielsweise das Üben eines neuen Instruments, um den Kirtan zu unterstützen. Außerdem ist die Landschaft so abwechslungsreich, dass es immer noch eine andere Himmelsrichtung zu erkunden gibt. Und bei Regen kann auch drinnen studiert werden. Dem Yogi wird ja nie langweilig 😉
Macht ihr wirklich jeden Tag Yoga?
Ja, klar! Aber natürlich nicht den ganzen Tag nur Asana… Meditation, Atemübungen, Satsang und Kirtan sind genauso wichtig. Und eine Massage zwischendurch ebenso. Man kann ja alles, was zu tun ist, im Yoga-Sinne machen.
Ihr wollt auch eine Zeit lang im Winter auf Kreta verbringen? Dann kommt mit in unseren Ashram. 6. November 2021 – 26. Februar 2022.
Bleibt zwei Wochen, einen Monat oder gleich den ganzen Winter über. Übt mit Jivamukti Lehrenden der ganzen Welt und werdet Teil einer inspirierenden Gemeinschaft.
———————-
This year there will be a new version and expansion of the Free Life Emersion: From November to February, the 'Crete Ashram' will take place for the first time. To get us in the mood for the winter in Crete and to clarify a few questions, we talked to Patrick, who was present at the Life Emersion in November 2018.
First things first: is it still summer in Crete in November?
Also, it's only summer in Crete :). It's too hot for me anyway…. But the weather was not bad! The first week it was very summery, we went swimming every day. The water was even still warm enough to swim a lap in the morning at sunrise. The following three weeks it was changeable, sometimes sun, sometimes rain. Wind was the only constant. Even though it gets a bit cool and damp towards December, the rain sometimes has something phenomenal: On the last day there was a rainbow that stood over the hills for many hours without interruption!
How did you like the time and what was special about it?
Spending a whole month in a group of like-minded people and pursuing yoga practice was formative for me. Such an opportunity does not come along very often. It was clear from the beginning which teachers would come at which times. At those times they took over and shared their perspective and approach to their practice. The unpredictable factor was what would come from among the participants. The idea was that everyone would have the opportunity to impart something from their own "expertise" to the group. There was lasting impressive content for me from both sources.
And in general, life in the group was simply beautiful. Working things out together, exploring nature, sitting in the sun and making new friends.
Isn't a month much too long?
No. After all, it takes time to shed familiar routines and settle into the new circumstances. A new yoga practice you might want to try could prove useful or not only after regular repetition. Other endeavors also take time, such as practicing a new instrument to support kirtan. Besides, the landscape is so varied that there is always another point of the compass to explore. And if it rains, it is possible to study indoors. The yogi never gets bored 😉
Do you really do yoga every day?
Yes, of course! But of course not only asana all day… Meditation, breathing exercises, satsang and kirtan are just as important. And a massage in between as well. You can do everything that needs to be done in the yoga sense.
You also want to spend some time in Crete during fall and winter? Then come with us to our ashram. November 6th – February 26th.
Stay for two weeks, a month or even the whole winter. Practice with Jivamukti teachers from all over the world and become part of an inspiring community.