YT&B Tipp: Ashtanga from the Heart with Andrew Eppler
We are happy to offer you an opportunity to step out of the day to day world and live in pristine nature while you dive deeply into yoga.
Travel Date: October 13 – 19, 2019
Location: Tertsa Yoga Shala ,Tertsa/Crete
Content: Ashtanga from the Heart Yoga Retreat with Andrew Eppler
Mornings 9:00 to 11:30am
Therapeutic Movements and Concentrated Asana Practice
Starting from wherever your practice is at currently we will assist you in taking the next steps to deepen, understand and evolve your yoga practice. We begin with postural analysis and a half hour of individualized therapeutic exercises and self massage to release tension as well as activate and strengthen the weaker muscles groups in our bodies.
Then we will continue with Asana practice in the Ashtanga Vinyasa method taught with compassion and respect for each individual.
Afternoons 16:00 to 18:00
Asana Refinement, Ishvara Yoga, Mudra, Pranayama, Philosophy, Chanting and Meditation
Andrew will share his experience of yoga imparting the ancient core of Indian philosophy and practice in contemporary terms.
The internal techniques of yoga will be explored and taught carefully as we share the Pranayama system of Sri BNS Iyengar and explain the foundational methods for moving beyond Asana practice into concentration and self inquiry.
Whether you are an experienced practitioner of yoga or new to yoga,
this retreat is an opportunity to take some time for yourself to recharge and heal your body in a beautiful place!
Tertsa Retreat center – one of the most wonderful yoga places in Crete, was lovingly created by my dear friends and it is a dream come true for us! This is a place created with mindfulness and care for each immaculate detail by true yogis! A place of healing, banana palms, sun and peace…
— Andrew Eppler
Live close to nature- in style!
Yoga evolved from nature. The original yogis were totally in tune with nature. We have created an opportunity for you to experience living close to the elements while being completely comfortable!
We have a four large and beautiful cotton canvas tents. Each can accommodate two people comfortably. These beautiful structures include a mesh wall that zips onto the groundsheet and canopy, allowing you to roll up the canvas walls for maximum ventilation and view while being totally protected and bug free.
All of our tents are fully furnished including comfortable mattresses, bedding and towels.     Fall asleep to the smell of wild Cretan herbs! .
There are outdoor showers and toilets which are shared by the tents in the camping area. Each tent sleeps two people. Couples can arrange to have their own tent.
Just 500m from the beach, nestled in the hillside above the Saint George Church of Tertsa, you'll find our magical getaway.
Two newly constructed, boutique vacation rentals with sweeping views of the lush sub-tropical Tertsa Valley and Mediterranean sea. "Panorama 1 &  2" feature open plan designs, allowing for maximum views from the large panoramic windows. Relax and enjoy the vast nature with large additional outdoor space, including alfresco dining areas.
​
​Quiet and comfortable, with distinctive personalised design, makes these vacation rentals a perfect place for every dreamer and anyone looking for a place to unwind.
The true 'pièce de résistance' of our little mountain side paradise, is our private Yoga & Wellness Shala located just above, Panorama 1 & 2.
​
A 5 minute walk past gardens and banana plantations leads you to the beachfront village, where you'll find everything you need for your home away from home, including 3 tavernas on the beach and a mini-market.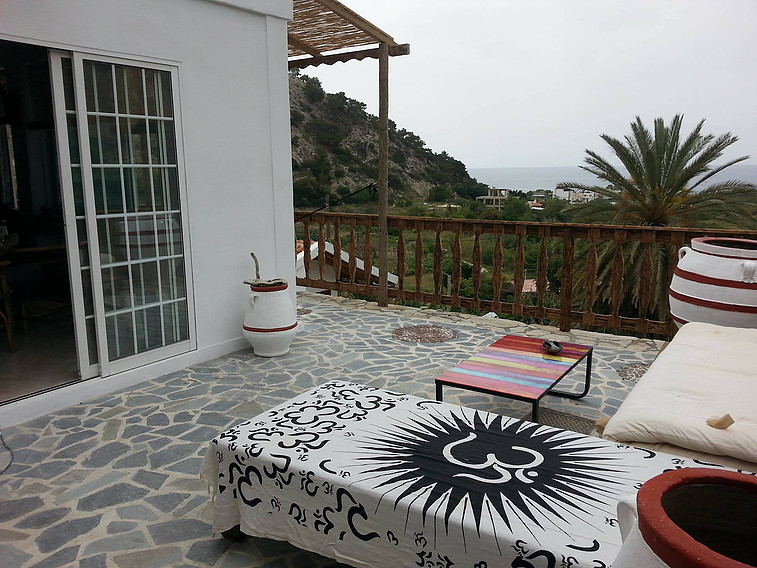 Organic vegetarian cooking, fresh from farm to table!
Every morning you will have light breakfast with tea, coffee, and fresh local fruits and nuts. Afternoon tea, coffee, and snacks will be available.
Brunch and Dinner will be provided by Minoan Tastes. A delicious meal will be served after yoga practice each morning and every evening at 7pm.
Minoan Tastes sources almost all ingredients directly from local farmers. The menus include fresh local produce, with many varieties of seasonal greens and vegetables. Fresh fruits will be served including pears, grapes, pomegranates, figs, and local nuts. There will be a delightful array of traditional Greek cheeses like graviera, myzithra, and kefalotyri made from sheep, goat and cow milk from local dairies. (We can also accommodate vegan diets on request.) Olive oil flows like water, and you'll be able to taste several varieties of the finest Cretan olive oil produced nearby. Minoan Tastes is committed to choosing the finest organic ingredients and to supporting the local farmers who grow their crops with great care and pride as their ancestors have done for centuries..
Andrew Eppler has been practicing Ashtanga Vinyasa yoga for over 3 decades. Andrew is the director of Ashtanga Yoga Studio in Norman Oklahoma and he is the producer and director on Mysore Yoga Traditions film. Yoga and been a life long journey for Andrew. He has grown up with the practice and witnessed its evolution into world culture first hand. Andrew has spent many years studying the philosophy of the Nathamuni Sampradaya tradition that Sri Krishnamacharya belonged to. With the help and support of senior Sanskrit professors in Mysore and also the support of the Royal Family of Mysore who began the Ashtanga Vinyasa tradition in Mysore, Andrew has developed an approach to teaching physical postures that fits the modern paradigm. While staying grounded in traditional ideas about philosophy and the sequences of Ashtanga Vinyasa yoga, Andrew believes that there is inevitable evolution in yoga practice and uses a "global fusion" of techniques. He is constantly researching different methods, comparing techniques from yoga communities around the world as he travels, and refining them to create the best approach possible in his own teaching.
The price includes: yoga sessions, accommodations, and food.
GETTING THERE – Tertsa is one and a half hours drive from Heraklion Airport. We can arrange transportation for your if you request it. Some people may prefer to rent a car.